Towards the implementation of High Value Datasets – First hands on
In the context of the Data Week 2023 event, where European Big Data and Data-Driven AI research & innovation communities meet, a session focusing on topics related to BeOpen and HVD has been organised by members of the project.
The session aimed at exploring how projects funded under the topic 'Public Sector Open Data for AI' can support the actual implementation High Value Datasets (HVD) in EU territories for the benefit of local communities. A short presentation of the initial experience of the BeOpen and RODEO projects inspired the hands on session, revealing initial requirements, difficulties and challenges encountered so far.
A panel session followed, with the participation of related projects representatives (SPOTTED, GREAT and DS4SSCC) who brought more insight into several topics of interests, such as: adherence to the FAIR principles, context data interoperability, legal constraints, quality of data, consistency of HVD among Member States in Europe and multi-scale alignment, and the importance of guidelines for HVD replication.
A report was issued at the end of the session, with details about the content shared. The report concludes with a list of main outcomes, such as the need to assure homogeneity and consistency of datasets, reusable pipelines for HVD management, consider AI related challenges, such as overfitting.
Contributions to the Strategic Agenda for Data and AI referred to the sustainability of the overall HVD management pipeline and commitment to the release of HVD with the appropriate level of quality and reliability, especially when feeding AI solutions.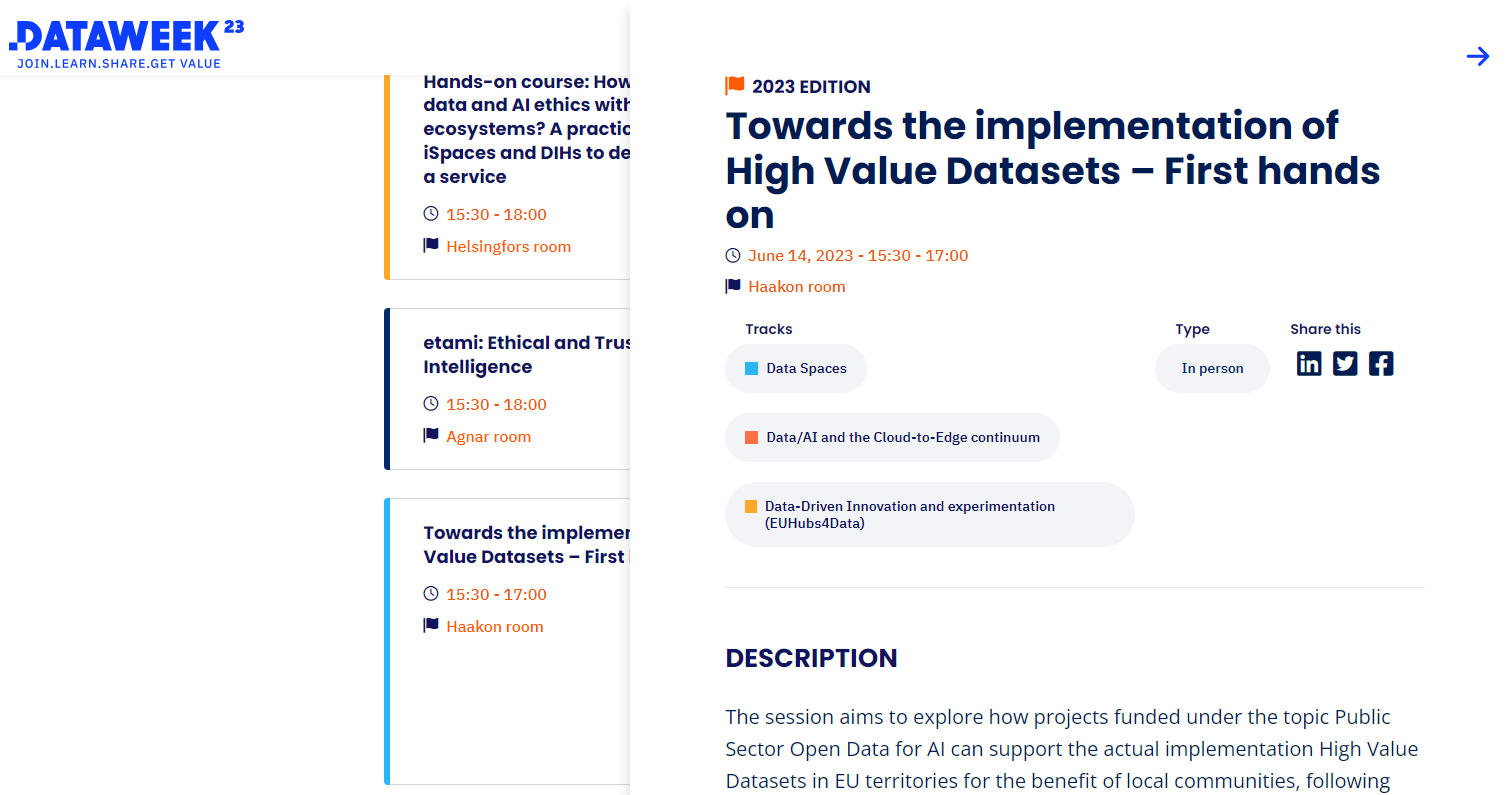 Screenshot of the Data Week 2023 website with description of the BeOpen Session
Experts of the BeOpen project involved in the organisation of the session: Francesco Mureddu, Data Power and Roberto di Bernardo, Engineering Ingenieria Informatica
Interested in knowing more?
Curious about the agenda, session description and a link to all presentations on the Data Week website?