BeOpen represented at the Smart City event in Herne
September 21st and 22nd 2023 in Herne were dedicated to the topic of Smart City, or rather Smart People, as a necessary basis to get to the city level. Herne adopted this necessity towards being truly digital, as its label: The Smart People City Herne.
The Smart City Days Herne consisted of a broad mix of insightful keynotes, networking and exhibition space for innovative solutions and was hosted by Herne Digital GmbH, Ideasforum, FIWARE and ruhrvalley.
Two days of discussing smart mobility, open source and data spaces served as a perfect environment to present the city's scope within the BeOpen project. Herne is one of 18 partners within BeOpen with a use case around mobility, environmental information, and geo-data during the upcoming 2 years.
Particular focus within the project is set on road maintenance, digital management of public parking spaces, crowd monitoring using AI to optimise data itself, as well as applications building up from this data. Emphasis is put on building guidelines for adequate evaluation, reproducibility, interoperability as well as questions about data protection and ethics and AI.
The focus does not come as a surprise, as the city is very active in the described areas, approaching it from various angles such as:
The real-time parking space detection in P&R facilities, interconnected with other city systems.
The real-time surveillance of no parking zones and fire rescue paths.
The real-time monitoring of visitor arrival and departure at mega events to allow in time traffic control.
Remote monitoring of district heating tunnels
Counting visitor streams.
A single sign on public WIFI.
A GIS based support system for addicts.
Generating public high value data (HVD) to be merged in one platform, investigating optimisation and interconnectivity is a perfect base to prototype together and reach our goals within BeOpen.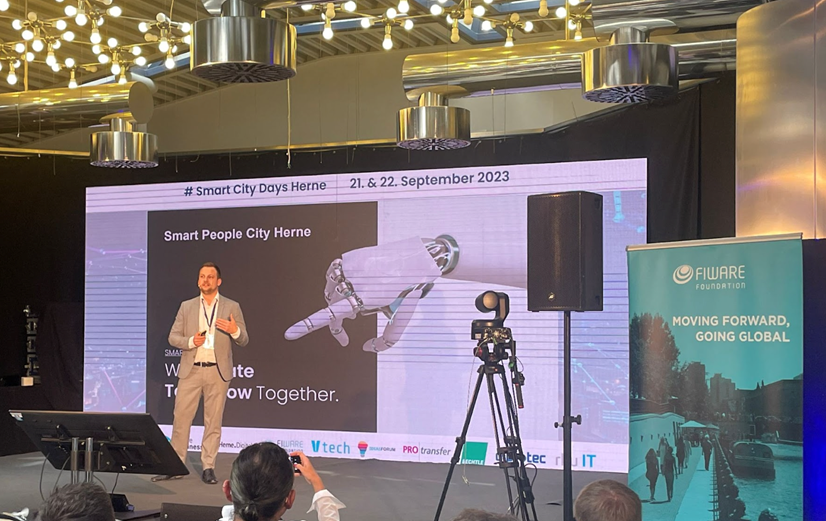 Pierre Golz presentation at the Smart City Days Herne.
Interested in taking a look at Pierre Golz' presentation? Check the FIWARE German Speaking event slideshare!